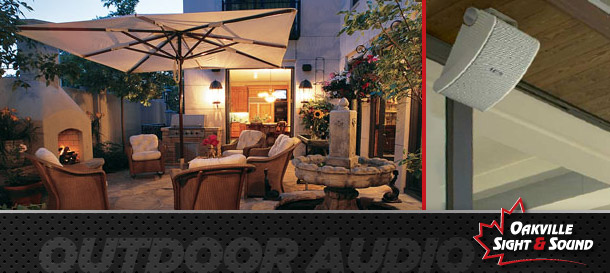 With the latest in outdoor audio technology, never again will you have to settle for the off-key renditions of an amateur guitar player or raspy tunes coming from that beat up boom-box. Because no one wants unsightly cables and bulky speakers in view during a song- and sun-filled day, you can also enjoy outdoor entertainment in a natural environment. Taking the party outside has never been easier and more rewarding.

If your idea of outdoor audio is running some extension cords from the house to your stereo on the back deck, it's time to consider an upgrade. Outdoor speakers were made to stand up to tough conditions, so the only weather-related concern you will have is: Riders on the Storm or Thunderstruck?
Size and output matter: you want equipment powerful enough to provide clear sound over other noises, without having to crank the system to the max. Paradigm's line of hearty outdoor speakers stand up to moisture, corrosion and UV rays while providing a listening experience you would expect from indoor models. They have a wide variety of outdoor speakers, but we find a lot of our customers like their outdoor rock speakers that blend in nicely into your outdoor space.
You can still get the full range of sound, from bass drivers that satisfy your primal need for power, all the way up through mid-range and to tweeters which handle your treble needs – all in one package. Consider and compare numbers like power output and driver size, while ensuring the power of your stereo receiver or amplifier is compatible with the speakers' output.
"Natural" should be the operative word when talking about outdoor audio. Manufacturers have gotten creative in designing speakers to fit in with your surroundings. What looks like a black-granite rock in the garden or a planter by the pool is actually a speaker pumping out relaxing music or your favourite air-guitar classic.
Whether you want to expand your multi-room audio system to include an outdoor zone, or connect to an outdoor-dedicated receiver, Oakville Sight & Sound has the equipment and experience to turn your outdoor space into a slice of paradise. For more information about products, discrete installation and wiring or a consultation, contact us today.