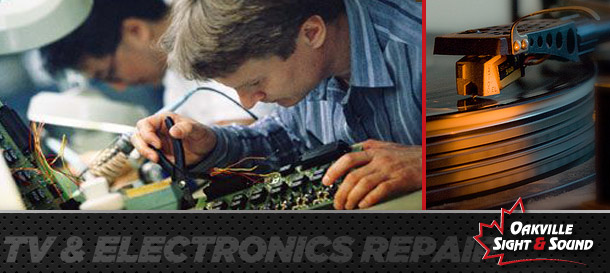 Consumer electronics today rarely get the same courtesies as their owners. Instead of being allowed to ride blissfully into the sunset after years of loyal service, they are unceremoniously thrown off a cliff at the first sign of trouble – or as soon as the newest attraction strolls into town. Even though quality repair service can be hard to find these days, your faithful companion can still be salvaged with the help of places like specialty audio-video shops.
Before the healing can begin, a change in attitude has to take place. As the prices of popular consumer electronics have gone down, so too have our expectations of quality and longevity. Where you used to find repair shops – shops dedicated solely to fixing devices purchased from other sources – you now find "for lease" signs and empty windows.
If you can simply purchase a new piece of equipment for the cost of repairing it, of course you would be wise to replace it. In this case, though, it probably wasn't a very good product in the first place. Many large retailers, because they purchase – mostly low- or mid-quality products – in such bulk from suppliers, find it easier and cheaper to invest in return and exchange services rather than repairs.
Specialty shops still pride themselves on providing expert service and repairs for a wide variety of devices. Oakville Sight & Sound, a home theatre specialist, even offers a free estimate for all repairs, so you can properly weigh your options.
Before you make a hasty decision, speak with an expert at Oakville Sight & Sound. They repair a wide variety of products from TVs, speakers and turntables to cameras, projectors and phonographs at a fair price.