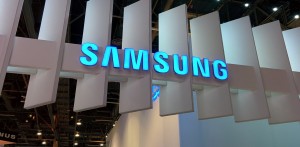 CES 2014 is now behind us, and Samsung has once again delighted us with a new lineup of products. Here are the highlights:
105" Curved & 85" Bendable Ultra HD TVs
This 105" U9500 TV combines the stunning resolution offered by Ultra HD (or 4K TV), with the elegant design elements of the curved televsion in a huge screen – the largest of its kind. The bendable TV gives users the option of having a flat or curved screen.
Shape Wireless Multiroom Audio
The Shape M7 & Shape M5 are the two wireless speakers in the Shape line. They can be used individually to play music from your phone, or steam music online, or, 5 speakers can be combined to create an immersive surround sound experience.
Galaxy Note Pro & Galaxy Tab Pro
The Galaxy Tab Pro will be available in an 8", 10" and now, a 12" model. The Galaxy Note Pro will be available in the 12" model. The large 12" screen allows users to easily have 4 screens open at once. The other nice perk with the 12" models is a full-sized keyboard. The theme with the new Pro series is "Proactive, Progressive & Productive".

Trek, Kidrobot & BMW Partnerships
Trek has designed two new concept bikes that integrate with the Samsung technology. While pedaling, the bike will charge your Galaxy Note 3 so you don't have to worry about your battery depleting on a long ride. The bikes also integrate with the Galaxy Gear to track information on your speed & distance. Samsung & Kidrobot, a maker of limited edition art toys, collaborated to create unique figures inspired by the Samsung Galaxy line. In general, wearables were a big theme at CES 2014. BMW & Samsung collaborated on a version of the Samsung Galaxy Gear to showcase the BMW i3 – the world's first fully-connected, electrically-powered car.
https://www.youtube.com/watch?v=42rvdJWmZUk
Chef Collection
The Chef Collection, inspired by world-renowned chefs, is highlighted by the refrigerator & dishwasher, and combines the best in technology & engineering, functionality & design.

Smart Camera NX30
The new Smart Camera NX30 features an advanced 20.3MP APS-C CMOS Sensor, NFC & WIFI connectivity & a 16-50mm F2-2.8 S ED OIS Lens.
https://www.youtube.com/watch?v=poY8QAZbtEI&list=PLG_rGpgE_jjhwTfex0JxTQUj97H46g5l2