With Samsung's upcoming Canadian launch of its 55'' S9C Series OLED Curved TV, they really are going to change the way that you watch TV. Samsung may be saving marriages by providing a solution to the age-old problem of "What are we going to watch on TV tonight, dear?" No longer will you have to decide between the hockey game, or the romantic comedy. Now, you can watch both, together, at the same time. And no, we're not talking about some new kind of picture-in-picture. Samsung's Multi-View technology allows you and your spouse to watch & listen to two separate full-screen programs with the use of Samsung's active 3D glasses, which also provide a great quality, stereo sound.
So what exactly is an OLED TV? 
Beyond that nifty little feature, it's the picture quality that will be the first thing you notice on this TV. This new TV is an OLED, or organic light emitting diode. To fully understand what this means in terms of picture quality, for you, as the consumer, you have to understand what exactly our starting point is with a traditional LED TV. Here, I'd refer you back to our last blog post on How to Buy a TV, which includes a section about the differences between LED/LCD/Plasma TVs. In brief, an LED TV is really an LCD (liquid crystal display) screen that is illuminated, or backlit, using LEDs, or light emitting diodes. The backlighting is necessary because the actual LCD screen itself does not illuminate. With an OLED TV, the screen itself is an OLED screen – not an LCD screen, and each individual pixel of the screen emits light. This is where Samsung's slogan for the OLED comes from – "Life In Every Pixel".
What does all of this means for YOU!?
So what does this all mean for you and your TV-watching experience? It means a more authentic picture which comes from the absolute blacks, pure whites, and real colours that the pixels generate without the use of colour filters. You'll also get a virtually blur-free picture for a much-improved viewing experience for action scenes & sports. The TV's curved display & premium metal frame also continue the trend Samsung set earlier this year with its 85'' Ultra HD TV.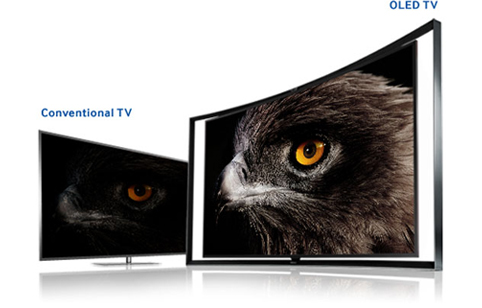 The new OLED TV will be available for sale in Canada in October 2013. Oakville Sight & Sound will be one of only a handful of dealers across Canada that will have the OLED TV available – and we're your only source in Oakville for it!