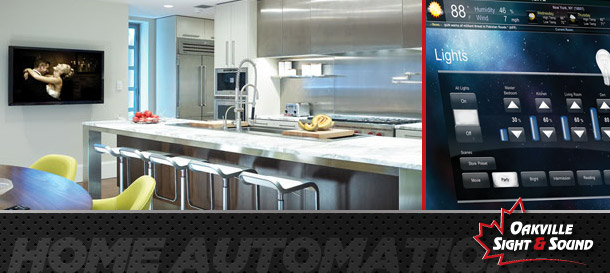 For all of the joy and hours of entertainment that cool new gadgets bring, no technology goes to work for you like a home security system. In not protecting against theft or break-ins, those toys might not be around long enough for you to enjoy anyways. But thanks to modern technological advancements, the peace of mind you've come to expect from a security system now accompanies the wow factor you desire from other consumer electronics.
Check out some of the features of Crestron's Home Automation and Security below:

The biggest advancements in home security have come in the way you control and monitor your system – namely, the software – including how you connect with traditional surveillance equipment like cameras and alarms – the hardware. Home automation, well known for keeping you comfortable at the push of a button, makes security easier too. At Oakville Sight & Sound, we're big fans of Crestron Home Automation. Their systems control everything in your home from your TVs, Home Theatre, HVAC, Lighting, and yes, even your home security, all from the touch of a remote, iPhone or iPad.
While some systems already provide lighting and thermostat control (among other things), other systems deal solely in security. You'll find a wide range of options – and prices to match – from setups that offer comprehensive protection and surveillance to some that seem better suited to monitoring your children and the babysitter.
Never far from home
Sitting at work all day while your home is vacant, you might from time-to-time have a nagging suspicion in the back of your mind; maybe recent thefts in the neighbourhood have you on edge, or you just feel better with a real-time report of the situation back home. Modern security systems incorporate software that communicates any disturbances directly to your smartphone or tablet.
The monitoring at home – a motion sensor, a camera, a smoke alarm – is connected via your router. If and when you want to install another piece of hardware like a camera or door sensor, you simply update the software on your computer.
Home security is a big market and not every system delivers equal amounts of peace of mind. Speak to a technology expert who can spell out the biggest differences, including reliability, range of features, expandability and alert transmission speed.
Oakville Sight & Sound will deliver straight talk tailored to your security and surveillance needs. To discover the full range of home security options stop by the show room or call 905-338-2275.