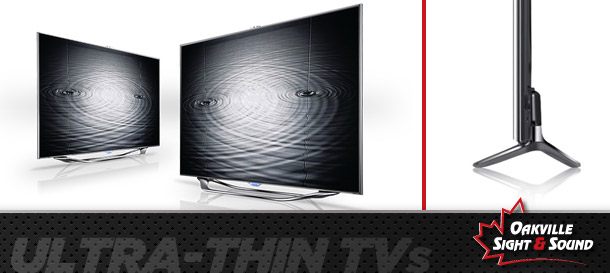 Thin is in, and not just for swimsuit season. When the back-breaking boxy televisions of past made way for the flat-panel models we know so well today, you might have been one of the many who doubted there was any fat left to trim. As it turns out, ultra-thin TV designs from companies like Samsung have pushed the limits even further.
View the impressive screen and borderless design of the Samsung 55″ 8000 Series LED in this short features video:
youtube
please specify correct url
Not long ago, the idea of a home theatre could cause heated debate among couples. It used to mean that you would pay for the joys of entertainment with the annoyances and ugliness of cumbersome, bulky equipment. But then flat-panel TVs, hidden speakers and smarter furniture meant you could have the best of both worlds. Ultra-thin TVs represent the next step in the progression.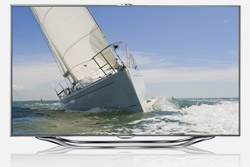 Samsung's series of Ultra-thin TVs are turning heads with their sleek bezel – the LED screens boast a width less than three centimeters. Besides occupying less of your field of vision, slimmer TVs require even less effort to hang up on the wall. In fact, you'll find that it is no more difficult than placing a painting.
But looks count for little if performance doesn't match. Samsung's Ultra-thin TVs also take picture quality and intelligence to the next level. Smart TV technology brings cool features like full web browsing, online video streaming and compatibility with other devices, while in some cases also adding 3D capability.
The LED TV models satisfy those seeking a less energy-intensive and lower-priced product, while Samsung's Ultra-thin plasma TVs still deliver the crystal-clear picture, vivid colours and endless features users have come to expect, but in a smaller package.
Oakville Sight & Sound is a proud carrier of Samsung TVs, including the new Ultra-slim OLED and Neo QLED models. Visit their showroom to see the difference in person, or find out more online at https://www.oakvillesightandsound.ca